The TAO team directly contributes to the success of one of the world's leading energy companies. TAO's areas of support cover a broad range of operations, from Asset Management Systems (AMS), Sub- Surface & Wells, Reservoirs Facility Management, and various global programmes. TAO partners as the remote team for more than 35 on-site assets from our Shell Business Operations Centers – Chennai (India), Manila (Philippines), Krakow (Poland) and Kuala Lumpur (Malaysia).
Poshini talks about her Life at Shell
Read the transcript
Title: Poshini talks about her Life at Shell
Duration: 1:15 minutes
Transcript
0:00
hi I'm poshni Ganesh of process data
0:02
engineer at Shell
0:04
being a process data engineer data is
0:07
the key making the data available
0:09
identifying data issues and cleansing of
0:11
the data is one of my primary activities
0:14
this helps in supporting and enabling
0:16
the Assets in the digitalization journey
0:19
I'm very proud that shell has brought
0:22
into me the safety mindset and has
0:24
gradually extended to my family as well
0:26
which I believe is one of the major
0:29
reasons in influencing a community or a
0:32
society
0:33
talking about how my role impacts shell
0:36
I am a part of the Tao technical
0:39
reporting team which is a key enabler on
0:41
digitalization and Innovation drive
0:44
across various assets which I believe is
0:46
one of the most key factors of shell
0:50
to somebody who wants to join shell all
0:52
I would want to say is
0:56
take up challenges give it your best
0:58
shot be open to you know a lot of great
1:01
things coming your way and I think shell
1:04
is going to welcome you with open arms
1:06
so henceforth saying that at Shell the
1:09
future is yours to make
1:12
[Music]
Nalayani's Story -Technical Asset Operations SBO Chennai
Read the transcript
Title: Nalayani's Story -Technical Asset Operations SBO Chennai
Duration: 1:15 minutes
Transcript
0:00
hi everyone my name is nalaini working
0:02
as a team lead in technical asset
0:04
operations based out of Chennai
0:06
I'm working in Shell for past 12 years I
0:09
started my career as a Frontline staff
0:11
and progress towards leadership role
0:13
during this journey shell give an equal
0:16
opportunity to everyone that is the
0:18
reason I can anchor myself in this
0:20
organization over a decade
0:22
few main things I would like to
0:24
highlight about shell ensuring women
0:26
safety and providing extraordinary care
0:28
shell provides post maternity support
0:30
like kids Screech support work-life
0:33
balance I have a daughter she's 7 years
0:35
old I manage my work along with my
0:38
daughter her studies it's all because of
0:40
the work life balance we have at chill I
0:43
can proudly say that women Network in
0:45
Shell is robust and it's extremely
0:47
helping each and every women throughout
0:49
their career I feel the inclusiveness
0:51
and the cultural speak up dni and the
0:54
office environment which shell providing
0:56
is the top notch we start the day every
0:59
day with meeting where we share dilemmas
1:01
and discuss best way to deal the
1:03
dilemmas celebrating work success and
1:07
personal accomplishments
1:09
the feature is yours to make
1:12
music
TAO is an integral part of Shell's SEAM – Safety, Environment and Asset Management community that provides business functions with fit-for-purpose standards, deep-expertise, capability, insights, and integrated support and state-of-the-art digital solutions to achieve Shell's strategy of Powering Progress to accelerate the transition of our business to net-zero emissions.
The TAO team – now close to 1900 staff and growing - provides services and remote technical operations support to multiple assets in Integrated Gas and Renewables & Energy Solutions, Chemical & Products Manufacturing, Upstream and Sub-Surface Wells & Reservoirs Facility Management. They partner with business units worldwide and often do so together with the deep capability of Project & Technology (P&T), Information Technology (IT) and Finance & Data Operations (FO-Data) partners. TAO's focus on safe, standardised, effective, and efficient process delivery drives tangible results, including reduced costs, improved asset availability, better margin opportunities, enhanced sharing of best practices & lessons learned, and reduced carbon emissions across the portfolio.
TAO team members work in an energetic and diverse team, making a meaningful impact on Shell's journey to net-zero emissions.
Get to know the TAO specialists teams:
Asset Care is a key player in Shell's holistic approach towards making our assets more reliable; it establishes the requirements for reliable operation by supporting Reliability Centered Maintenance (RCM) studies, asset care plan developments and "Reliability Availability & Maintainability" Modelling. In addition, the Asset Care team utilises digital technologies to enable remote inspection support, functional safety, and instrumentation services.

AC focuses on delivering high-quality and sustainable asset care solutions that prioritise rigorous requirements for reliability. Team players at Asset Care are collaborative individuals who work with cutting-edge digital tools, offering pioneering solutions for inspection and maintenance activities across all operational asset units. Joining AC presents a unique chance to join a robust team contributing to Shell's broader commitment to sustainable energy production. Team members in asset care have access to the best training and development program and opportunities, helping them to advance in their career and professional growth.
Asset Data & Digital Transformation (ADT)
Asset Data & Digital Transformation (ADT) ensures that the data foundations are correct while powering Shell's assets in their Digitalisation journey. It delivers integrated and quality data and insights for making sound business decisions. ADT establishes a robust data foundation and offers valuable insights to enable informed decision-making and supporting asset digitalisation. The team manages the project-to-asset (P2A) lifecycle, developing Computerized Maintenance Management Systems (CMMS), overseeing Operational Information Management Data, and managing documentation. ADT seeks Process Specialists and Engineers to drive digital transformation and achieve exceptional business outcomes. Process Specialists in this team serve as internal Subject Matter Experts, supporting the project-to-asset (P2A) process, coaching Asset Management System practitioners, and leading quality improvement initiatives. Engineers deployed in Asset Data & Digital Transformation process improvement, analysis, documentation, and results delivery to support digital transformation.

Production Optimisation (PO)

The Production Optimisation team manages Operation, maintenance and turnaround activities, Integrated Activity Planning and Scheduling (IAPS), and predictive maintenance. PO team also support Production Operations, Process Engineering, Economic Modelling, and Asset Integrity Management. Joining the Production Optimisation team at TAO Shell means being a part of the Production Optimization (PO) groups, which focus on ensuring safe and efficient production through process excellence in maintenance execution.

Field Execution Optimisation (FEO)

The Field Execution Optimization (FEO) team provides best-in-class integrated capability to support field execution activities in assets and projects. FEO sharpens the focus on maintenance and turnaround execution excellence by supporting work planning & work pack preparation activities for maintenance & turnaround, work permit preparation, maintenance optimization and project services. We are here to help and enable our field/asset colleagues deliver energy to the world.

The project support services of the FEO team include cost engineering, cost control, cost estimation, Project Tools & Systems, Scheduling Risk Management etc., There are various roles such as Engineer - Maintenance, Engineer - Project Services, Tech Specialist - Maintenance, and Process Engineer to support FEO plans and operations that provide technical expertise & support in their respective areas, to ensure that maintenance, turnaround & project activities are aligned with the facility's operational and process requirements.
FEO fosters a diversified, equitable, inclusive culture that encourages growth and development, especially in gender balance. We provide a global stage to our team members where they can contribute and learn, from wherever they may be.
Subsurface and Wells & Reservoir Facility Management (WRFM)

Subsurface and Wells & Reservoir Facility Management (WRFM) oversees end-to-end data management from exploration to abandonment for Asset Operations. The Subsurface and WRFM team of TAO provides technical support for Well Engineering, Geo-Information, Technical Reporting, Petrophysics, Geophysics, Hydrocarbon & energy accounting for Wells & Reservoir Facility Management. Engineers for this team play a critical role by providing technical support for domains such as Well Engineering, Geo-Information, Technical Reporting, Petrophysics, Geophysics, Hydrocarbon & energy accounting for WRFM. Their key responsibilities include loading and managing subsurface data, resolving data quality issues, participating in data projects, driving data quality improvement, and performing data management tasks.

If an employee is passionate about delivering reliable, predictable results and shaping the future of work by applying new technology, the Subsurface and Wells & Reservoir Facility Management team would be a perfect fit.
Technical Reporting & Digital Integration (TRDI)

The Technical Reporting & Digital Integration (TRDI) team utilises technical reporting and data in Maintenance Execution, Production Optimization, Subsurface and Wells, and HSSE to offer valuable insights into our Shell assets. This team is one of the fastest-growing teams in TAO, requiring hybrid technical, reporting, and analytical capabilities to support a wide range of technical reporting activities that involve extensive digital integration. Technical reporting necessitates digitalisation specialists, who can provide significant value to Shell by centralising Technical Reporting, thereby enabling and empowering TAO to become a Trusted Advisor for Shell Assets.

Deployment & Capability (D&C)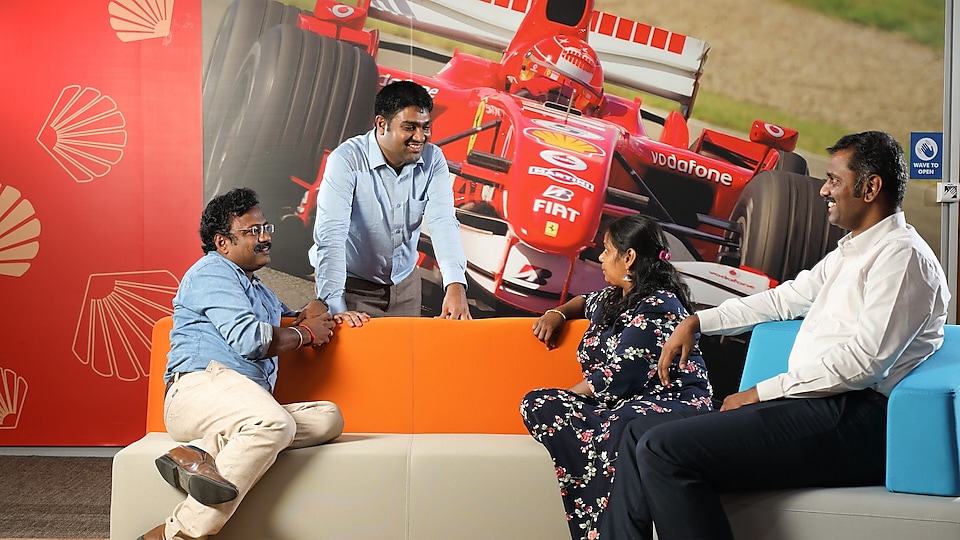 The Deployment & Capability (D&C) team of TAO is a group of process excellence professionals who provide balanced support, assurance and thought leadership as reliable partners within TAO Delivery. Team members of D&C get the opportunity to unlock and develop their potential to drive continuous improvement in the support they provide.

D&C is the perfect home team for employees looking to make a difference in the TAO space and advance their careers through access to best-in-class training and development opportunities. This team involves talented individuals working here as Tech Specialists - Prod Optimization (E&S) and Margin Optimization Advisors responsible for developing and maintaining refinery/base chemical capabilities and constraints models that help evaluate economic viability and make better operational and long-term decisions. In addition, these employees work closely with their clients/stakeholders to identify opportunities for improvement and support them in achieving their goals.
You may also interested in
Keen to learn more about Shell? Discover our purpose, meet some of the people working in the organisation, and get valuable tips to guide your application.
Our teams are more diverse than ever and being part of an inclusive, supportive work environment will ensure you are able to develop your career and reach your potential.
Be part of a graduate programme where you'll be supported to make an impact right from the start.