Shell Helix HX6 5W-30
Shell Helix HX6 SP/CF is an advanced formulation that enhances engine performance by helping to protect against sludge build-up and wear. It is suitable for a wide variety of vehicles for everyday driving conditions.
With its unique cleansing technology, Shell Helix HX6 SP/CF goes on cleansing and protecting to help keep your engine feeling like new.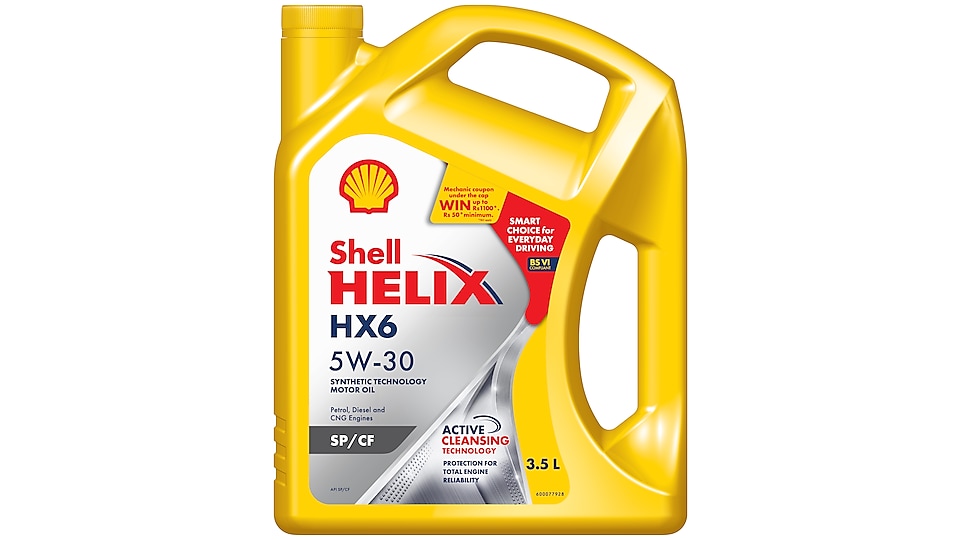 MAIN APPLICATIONS
Shell Helix HX6 helps to prolong the engine life of modern vehicles in demanding daily driving conditions by protecting against wear.
It is also suitable for use in modern direct injection turbocharged gasoline engines where is provides protection against damaging low-speed pre-ignition (LSPI).
PRODUCT BENEFITS
Greater resistance to oil degradation
Less evaporation
Less sludge
Enhanced fuel economy
Faster oil flow for quicker engine warm
SHELL HELIX HX6 IS RECOMMENDED FOR
Everyday driving situations­

Prolonging the life of engines as they age­

Engines with turbochargers­

Great value for money
Specifications: API SP/CF, Active Cleansing Technology, Resistance to Oil degradation, Low Speed Pre- Ignition Protection (LSPI)
Shell Helix HX6
Smart Choice for Everyday Driving