Shell #makethefuture Accelerator India 2017
We believe the answers to tomorrow's energy challenges lie in the power of people's ingenuity, and that together we can #makethefuture today. 
Globally, we are using more energy than ever before. At the same time, the significance of climate change means the world has to reduce CO2 emissions. We need innovative thinking to make today's energy go further and to find cleaner energy to take us towards a low-carbon world. Great ideas come from conversation, collaboration, partnerships; great minds coming together. Why not join us to tackle tomorrow's energy challenges so that together we can #makethefuture today.
The #makethefuture Accelerator India Programme aims to support anyone with a bright energy idea in action. The programme will help the businesses to build a strong value proposition and enable them to access funding to scale.
Applications to 2017 programme are now closed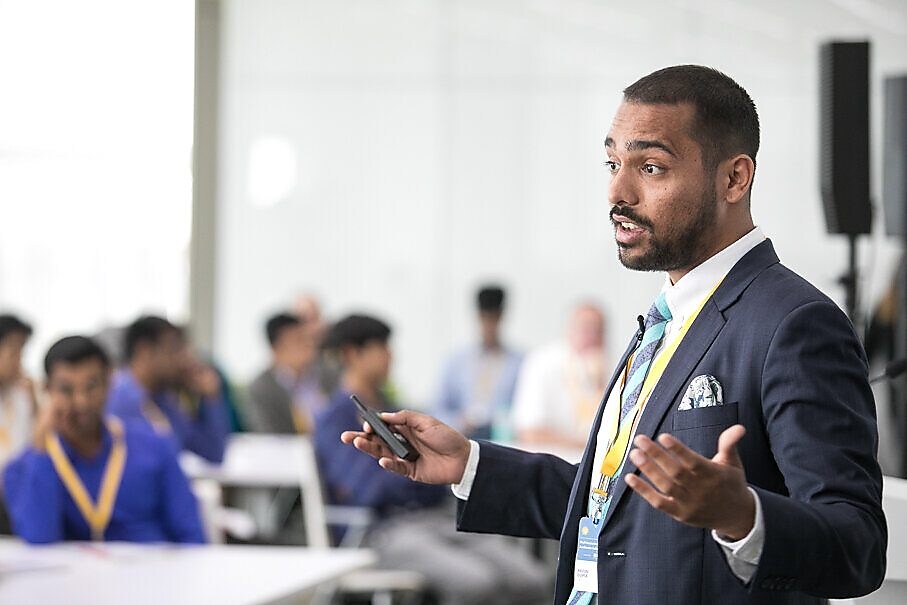 Meet the top 3 finalists who were shortlisted from over 60 entries!
Smart Joules:
Energy efficiency is the cleanest, quickest and cheapest way to bring more than 300 million Indians out of energy poverty. By eliminating waste in their own operations, building owners can save money, simplify operations, improve comfort and free up resources for the less fortunate. Smart Joules makes this process seamless and profitable from day one.
Through a number of solutions they help organisations completely retro-fit their buildings and meet energy conservation targets. Through their JoulePAYS tools they offer assessment, development, execution, financing and optimization of a comprehensive retrofit of your building's energy system under a single pay-as-you-save agreement, so you can save money from day one without taking any financial or technical risk.
JouleTrack collects, analyses, and displays different data streams in order to give you the actionable information you need to meet your energy management goals. Its cloud-based tools help you manage a significant operating expense, identify opportunities for cost savings, maintain comfortable indoor conditions for occupants and improve your team's productivity.
How it Works:
Existing or new smart energy meters, building management systems, and other sensors that monitor environmental conditions such as temperature, humidity, flow, etc. are connected to Smart Joules' self-designed hardware on site. The hardware logs collected data and transmits the same over a Wi-Fi connection to our continuous energy management software, which is set up as per your particular requirements. Reports, alerts and alarms can easily be configured by your team for changes over time or managed by Smart Joules' team for continuous detection of improvement opportunities.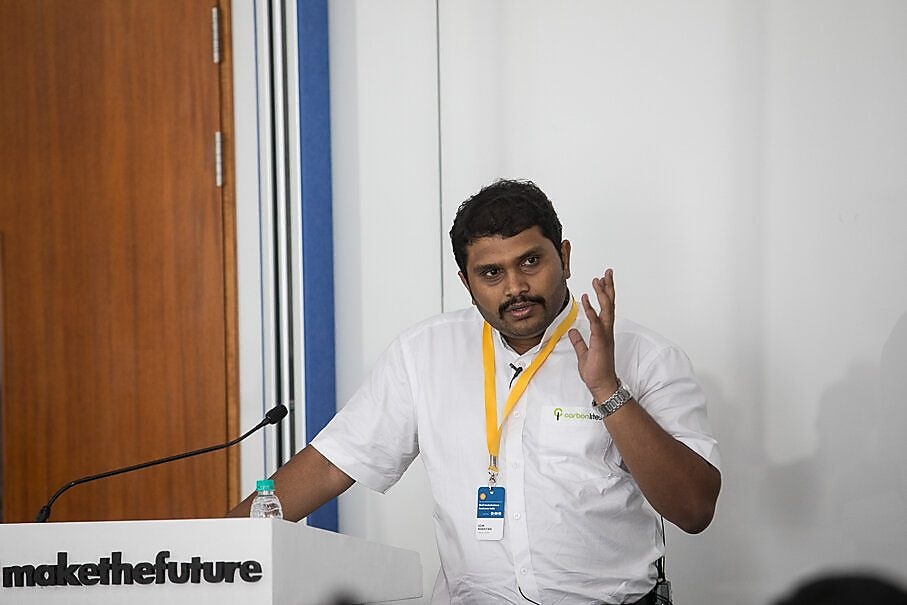 Carbon Masters
Carbon Masters India Pvt. Ltd was established in 2012 in Bangalore, and is a pioneer in providing solutions that reduce the risks of climate change. In Doddaballapur, Karnataka, Carbon Masters currently operates a 10-ton biogas plant, which is a waste disposal destination for 10,000 apartments in Bangalore. The company is also setting up a 40-ton plant in Malur, Karnataka, in collaboration with Mahindra & Mahindra.
These plants produce Carbonlites Cylinders – India's first branded bottled Bio-CNG. Carbonlites can displace LPG for commercial cooking, but can also be used as fuel for vehicles or to run power generators. Carbonlites is a renewable natural gas that burns longer and stronger than LPG providing a cooking performance that is preferred by chefs.
Carbon Masters have developed bespoke infrastructure e.g piping, unique cascades with 2-4 cylinders, pressure reducing systems, and burners that can make the changeover from LPG to Carbonlites both safe and simple to do. Our users report total in-use cost savings of 10% after switching over to Carbonlites. What's more, unlike LPG, it's carbon-neutral in use.
Carbonlites in a box is another innovation. It's a fully functioning biogas plant housed inside refurbished shipping containers. It's completely customizable and can process organic waste streams from 500kgs to 5 tons and produce up to 250kgs of Carbonlites (equivalent to its weight in LPG) per day. It could also produce 10,000 litres of liquid fertilizer. It does all this in just a one-third of the space occupied by a conventional biogas plant.
Carbonlites represents carbon mitigation in a bottle and a box - by not sending organic waste to landfills, it avoids methane emissions; by processing waste on-site, it avoids diesel emissions from pick-up trucks; and by producing Carbonlites bioCNG, it displaces LPG, further reducing emissions while also saves rising pick-up charges and LPG costs. Its clean energy for a clean India.
Graviky Labs:
Air pollution soot includes the fine black particles, chiefly composed of carbon, produced by incomplete combustion of fossil fuels. The common trait of soot particles is that they are extremely tiny – 2.5 micrometers or smaller in diameter. This is smaller than dust and mould, and is about 1/30 the diameter of a human hair.
They can travel deep into the lungs, where the compounds it consists of can do some serious damage. Graviky labs research has been around capturing this soot/pollution and repurposing it to consumer safe inks. One of the main quotes inspiring Graviky Labs is; "pollution is merely a resource that isn't being used properly." – R Buckminster Fuller
Background:
In 2013 started out as Kaalink. They seeded at the Fluid Interfaces Group, MIT Media Lab, Boston. In 2014, the started working on air pollution sensing, control and capture, as a tailpipe retrofit. In 2015 research began to develop several chemical processes to detoxify the captured Particulate Matter and to retain consistency and good flow rates. In 2016 they became Graviky Labs and began their global campaign to expand. Their first video launched with 2.5 million views in 10 days.
More in Energy and Innovation
We are helping to power lives around the world with natural gas, the cleanest-burning hydrocarbon.
We develop innovative technologies to find and safely unlock more, and affordable, energy from ever harder-to-reach places.